Patrick Calhoun and the Birth of Cleveland Heights
by Kara Hamley O'Donnell
In 1890 Patrick Calhoun, a cotton and railroad aristocrat, came to the Cleveland area to investigate the extension of the Southern Railway. Born in 1856 at his grandfather's home in Fort Hill, South Carolina, Calhoun spent most of his childhood at this plantation near Pendleton. Unable to receive formal education due to the Civil War, Calhoun began to study law in 1871 and passed Georgia's bar in 1875. After a short stint in Saint Louis, he moved to Atlanta in 1878 to practice corporation law, joining a law firm that would on January 1, 1887, become Calhoun, King & Spalding.
While with this firm, Calhoun became involved in several land deals but eventually turned his attention to the division and consolidation of state railway and traction interests. Most notably, he served as counsel for the Central Railroad of Georgia, the Richmond and Danville Railway, and the Richmond and West Point Terminal Railway and Warehouse Company from 1889-1892.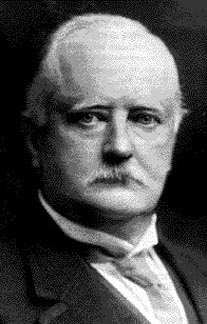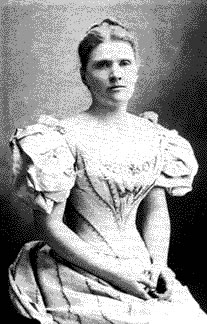 In 1894, the year he retired from Calhoun, King & Spalding, Calhoun acted for J.P. Morgan & Company by purchasing the Richmond Terminal and consolidating it into the Southern Railway system. He later took part in the consolidation of street railway systems in Pittsburgh, St. Louis, Baltimore, and San Francisco.
In the 1890s, he and his wife, Sarah Williams Calhoun, with their four children, moved from Atlanta to New York City. Once Calhoun had established his Cleveland suburb, he would travel on business between Cleveland and New York on a regular basis. Prior to permanently moving to Cleveland, Euclid Heights was the Calhoun family's summer home.
When Calhoun arrived in Cleveland on business with the Southern Railway in the early 1890s, he supposedly asked John Hartness Brown, a prominent Clevelander, to show him the Garfield Monument in Lake View Cemetery. This romantic cemetery was located directly north of what was to become Euclid Heights. The monument had just been dedicated on May 30, 1890, and Calhoun was said to have contributed to the subscription. The best distant vantage point from which to see the monument was Worthy L. Streator's deforested farm.
Many written recollections of the Euclid Heights property include William L. Rice and John Hartness Brown's early interest in the site. It is quite possible that Brown wished to develop this property and intentionally brought Calhoun to the site to describe his plan. Had Calhoun wished to see the monument, there were certainly more direct ways to have approached the cemetery: a streetcar line up Mayfield Road dropped riders directly at the cemetery's gates.
Calhoun recognized the potential of this site. On July 20, 1891, he purchased 240 acres of land from Worthy S. Streator and his wife, Sarah. The price for this land was almost unheard of in this small farming community: $223,000, or almost $1,000 an acre. In February of 1892 Calhoun, through John Hartness Brown and Richard Parmely, acquired most of the additional land necessary to complete the entire subdivision. Most of the property was from Stackpole and Parker, but additional land was purchased from E.F. Holden, Horace Ford, Frank P. Bell, and James Wright.
Characature of Patrick Calhoun
Taken from "Men Who Made San Francisco"
Calhoun then hired Boston landscape engineer Ernest W. Bowditch to lay out what was to be called the Euclid Heights district. It is unsure how Calhoun and Bowditch came to work together. Calhoun was surely aware of Bowditch's work with the Park Commission, especially since portions of Bowditch's park plan were adjacent to Calhoun's property. As a former New York resident, Patrick Calhoun may also have been familiar with Bowditch's work at Tuxedo Park, as well as the estate landscapes he designed in Newport, RI. Both men were also involved in Cleveland's elite social circles and could possibly have met through their shared associates.
By 1892 the preliminary plans for the Euclid Heights subdivision were set in place. The Atlas of Cuyahoga County records a plan which was to share many characteristics of the final design: curving roads set up on a warped grid pattern, English-derived street names characteristic of the Arts and Crafts movement, and a variation of lot sizes within the subdivision. Columbia Boulevard (now Euclid Heights Boulevard) was slated as the main thoroughfare, and it bisected the subdivision into northern and southern halves. The design was laid out prior to Calhoun's purchase of the earlier subdivisions, and thus distorted to work around J.J. Low's and Stackpole and Parker's geometrically designed subdivisions at the Euclid Heights Allotment's southwest corner. While the design was beginning to take shape, Euclid Heights did not yet have any residents.
In July 1892, Calhoun's subdivision was advertised in The Plain Dealer. The ad boasts of a subdivision with "Beautiful Streets and Boulevards, Grand Views of Lake and Surrounding Country…Electric Railways…Fresh Air, Far From Smoke and Dust. All the Conveniences of a Finished City." This was one of the first in a long line of advertisements which Calhoun would post for his subdivision. Contrary to the ad's claims, most of the roads were not improved, nor would railways be constructed for another four years. Calhoun's response to his ads must have been lukewarm in the early years, as the first resident did not move to Euclid Heights until almost three years later. Calhoun might have felt the need to create a more scenic approach to his subdivision. Surely the muddy hill at Cedar Glen was not the kind of entrance one expected for a first class subdivision. While E.W. Bowditch's park plan afforded this grand entry, the city lacked the funds to purchase the land for park purposes.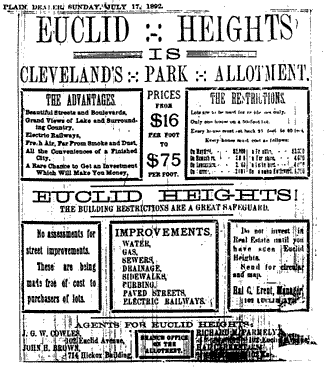 Advertisement. The Plain Dealer: July 17, 1892
On July 27, 1896, John D. Rockefeller donated 276 acres of land along Doan Brook, worth $270,000 to the city of Cleveland. In addition, he contributed $330,000 for the purpose of completing a four-and-one-half-mile boulevard between Wade Park and the Shaker Lakes, to be known as Rockefeller Park. The Park Board had worked with Rockefeller and his assistants, including J.G.W. Cowles, for ten months to compile the land from various owners. This large donation of land would make up a large part of D.W. Bowditch's plan for the eastern portion of the Cleveland Park System. Calhoun was undoubtedly aware that Rockefeller's agents were busy acquiring these properties: Cowles was Rockefeller's assistant as well as Calhoun's Euclid Heights agent. In addition, because Cowles was president of the Cleveland Trust Company, he had many connections in the community that might have expedited land acquisition.
At the same time that Rockefeller was accumulating park land, Calhoun had charged Cowles, along with John Hartness Brown and perhaps William L. Rice, with the responsibility of acquiring park land from thirty to forty different property owners. Exactly two weeks after Rockefeller announced his gift to the city, Calhoun's agent, William L. Rice, announced Calhoun's gift of land worth between $160,000 and $170,000 along Euclid Avenue and Cedar Glen. Like Rockefeller's people, Calhoun's agents had spent months acquiring the various parcels of land.
Calhoun envisioned implementation of Bowditch's park plan which provided for the extension of Rockefeller Boulevard across Euclid Avenue, southward to Cedar Road and up Cedar Glen to Euclid Heights. After Calhoun's gift was received, Euclid Avenue was widened and partially relocated to form University Circle. Calhoun donated the land with the understanding that park roads would be constructed from Euclid Avenue to Cedar Road. He also reserved the right "to operate upon a small portion of the land which he gives a street railway to and through Cedar Glen, as a means of affording street railway facilities to Euclid Heights." Calhoun's gift was indeed generous, but some accused him of having an ulterior motive: the allowance of a street railway to his subdivision.
While Patrick Calhoun had grand visions, he did not have an unlimited amount of money to spend on this "hamlet." He undoubtedly took bank loans, and is said to have borrowed one million dollars from Cleveland millionaire John D. Rockefeller. Calhoun corresponded with Rockefeller between 1897 and 1918 regarding the Euclid Heights Realty Company and might have requested a loan in 1897, as indicated by the subsequent years' correspondence. In 1898 Calhoun was refused an additional $40,000 loan requested of Rockefeller. Little documentation exists of this or any other Rockefeller-Calhoun loan; however, a correspondence index at the Rockefeller Family Archives indicates that the mortgage for Euclid Heights Realty Company was held by Rockefeller and covered by bonds "given to Rockefeller Foundation, March 1914. Final settlement made Feb. 1918."
While Calhoun had acquired the majority of the land necessary to complete his subdivision, it was not until 1896 and 1897 that Calhoun was able to purchase the remainder of the land in the J.J. Low subdivision at the top of Cedar Glen. Through his agents, land was acquired under several different names: The Erie Company, The Euclid Heights Realty Company, The Land & Fund Co., and Cleveland Trust Co., as well as in the names of W.L. Rice and Calhoun. On May 3, 1897, all of the lots of the additional land were empty, and Calhoun went ahead with his scheme in its entirety.
With the upcoming improvement to the Park System and the acquisition of all necessary land, it seemed now that residents might be more tempted to relocate from Cleveland's lowlands to the scenic suburb of Euclid Heights. The original plan of Euclid Heights was never realized, but a revision of this plan was completed prior to 1898, most probably just after Calhoun had acquired Low's land. The design of this later plan remains today, as do most of the street names. Today, however, minimal changes have been made to the locations of Surrey Road and the western portion of Kenilworth Road.
The eastern portion of Calhoun's subdivision, which contained smaller lots, was initially intended for more modest occupants. This portion of the subdivision is laid out on an east-west, north-south grid, much like traditional subdivision. This allowed Calhoun to sell more lots, resulting in more income. Bowditch, however, distorts the grid ever so slightly to create the illusion of curved streets. The northeastern-most corner of the site is also laid out on a grid, however, this grid is shifted at approximately thirty degrees to align with Mayfield Road.
The Early Residents and their Homes
The first known residents of the Heights were gypsies. Various stories have been told of gypsies who would camp at the top of the Cedar Hill, often attracting visitors. These early "residents" account for the area's early nickname as "Heathens' Ridge." The additional presence of wildlife, particularly wild turkeys, led to the Heights' second nickname: Turkey Ridge.
Those who came to the Heights to reside in Patrick Calhoun's subdivision would spend from $300 to $2,000 to purchase a site, the average price being approximately $800. Calhoun may have encouraged Cleveland's elite to come to the Heights by financing, at least partially, the construction of their new homes, in addition to taking ownership of their old homes downtown.
To ensure the long-term desirability of Euclid Heights, guidelines and restrictions were placed on building construction: homes could not exceed three stories and had to be constructed for single-family occupancy. Additionally, houses were to be set back twenty-five to forty feet from the street, depending on their location within the subdivision. In 1892 homes built on Mayfield, Hampshire, and Lancashire were to cost a minimum of $2,000. Franklin Boulevard homes were to cost $3,000. Homes on Berkshire and Derbyshire were to cost at least $4,000, while those residences constructed on Columbia Boulevard were to be worth $5,000. Advertisements for the allotment stressed the importance of these deed restrictions. At the same time, the expansion of Cleveland's downtown commercial center was driving residents from Euclid Avenue. Calhoun assured newcomers that a similar change would not happen in Euclid Heights. Six years later, in 1898, minimum costs for homes had dramatically increased, ranging from $5,000 to $20,000.
One of the first "homes" in Euclid Heights was a house of worship, Saint Alban's Church. Calhoun donated the centrally located lot to the parish located at the base of the bluff in Little Italy. The church structure was then relocated to the site atop the bluff, quite an accomplishment for the horses responsible for the move. The structure has since burned, although the congregation rebuilt on the same site.
In 1893, Alfred Hoyt Granger became the first person to make his home in Euclid Heights. An architect who worked on his own, as well as with the prominent Cleveland firm of Meade & Granger (1896-1897), he constructed his residence, "Uplands," at the western edge of the subdivision on Overlook Road, often referred to as "The Overlook." Granger's firm designed many of the residences on Cleveland's Euclid Avenue, and he would take part in the design of many early Euclid Heights homes, including Patrick Calhoun's own residence. Granger moved to Euclid Heights from nearby adelbert Road, in what is today Cleveland's University Circle, but would only reside in the Heights through 1897. Granger left Cleveland that year to become the architect for Northwestern Railroad in Chicago. His home was purchased by Homer H. Johnson, a Cleveland lawyer who represented automobile manufacturers when the industry was in its infancy.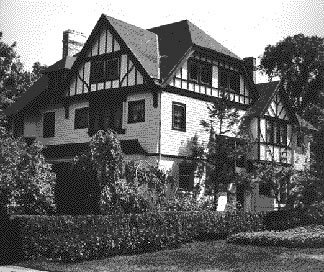 Patrick Calhoun's first house (2460 Edgehill Rd.)
The next year two more influential gentlemen came to Euclid Heights: John Hartness Brown and William L. Rice. These men, along with John Guiteau Welch Cowles, Hal C. Brent, and Richard Parmely, were agents in the sale of Euclid Heights lots and helped Calhoun in many of his local dealings. Cowles was the president of Cleveland Trust and J.D. Rockefeller's Cleveland representative. Rice and Brown are the men who brought Patrick Calhoun's attention to the site of Euclid Heights, as well as those who acted as his local agents. Rice, a partner in the law firm of Blandin, Rice & Ginn, acted as Calhoun's attorney during his residence in Cleveland, and Brown dealt in real estate and investments. As Calhoun's agents, they too would profit by luring families to the area; thus it would be a selling point that they made their homes in Euclid Heights. Previous to moving to Euclid Heights, both men made their homes on Euclid Avenue.
John Hartness Brown's stone home was designed by Alfred Hoyt Granger and pairs the Romanesque tradition with elements of the Gothic, most notably the flattened arch windows. Nearby Brown's Gothic-inspired mansion, William L. Rice's brick colonial revival home on Overlook Road offered a stark contrast. This massive Neoclassical residence had a two-story ionic colonnaded porch, and each end of the porch was punctuated by a protruding temple front. The mansion has since been demolished to construct the eight-story Waldorf Tower apartment building.
In 1897, approximately a dozen new residents moved to Euclid Heights. Most located their homes along Overlook, Edgehill, and Kenilworth roads. The new residents came from many different occupations: insurers, merchants, brokers, bankers, doctors, lawyers, and real estate agents. Many relocated here from the prominent streets of Euclid and Prospect Avenues. However, those with smaller budgets could also find their place in Euclid Heights: in 1897 a stenographer and a clerk built their homes on the allotment's smaller lots.
The following year, 1898, brought nearly as many new residents as the previous year, most of whom clustered on Berkshire, Kenilworth, and Derbyshire roads. As in earlier years, many wealthy professionals relocated to Euclid Heights: merchants, real estate agents, engineers, and lawyers. They relocated from the foot of the bluff, as well as from Cleveland's near west side.
Howell Hinds constructed his residence on Overlook Road in 1898. This Romanesque residence boasted an interior of the Art Nouveau style with much of the glass work done by the Tiffany Studios. It was demolished in the 1930s to make way for the Neoclassical Christian Science Church.
1898 was also the year that Patrick Calhoun completed his first Euclid Heights house at 2460 Edgehill Road. Designed in the Tudor style by this neighbors, Frank B. Meade and Alfred Hoyt Granger, the two and one-half story residence is boxy in massing, but exhibits a complex, multi-gabled roof, complete with jerkin head gables and half timbered gable ends. For the owner of the elite subdivision, this was a modest residence, executed in wood and relatively small compared to its neighbors. However, Calhoun obviously built this as his vacation home, living in Euclid Heights only during the summer in the early years. Today, the veranda and two bay windows have been removed.
Later, Calhoun would construct a three-story brick palazzo at 2620 Derbyshire, but it has since been destroyed. Designed by Frank B. Meade just after the turn of the century, it was one of the largest residences, if not the largest, in the subdivision. It included twelve bedrooms, a ballroom, six servant bedrooms, and an interior courtyard. This sizable house was ideal for Calhoun, his wife, eight children, and hired help. Later, in about 1917, the house was inhabited by Dr. George Crile, one of the founders of the Cleveland Clinic, and his family. Crile operated a biophysical laboratory in the basement of what he called "House on the Hill." Demolished in the 1940s to make way for the Cedar Avenue Baptist Church, all that remains is the coach house on Overlook Lane.
Early residents of the southwest corner of the subdivision, Myron T. Herrick, Edward O. Gordon, Melvin B. Johnson, and Howard Eells, purchased four small lots near one another on which to group their carriage houses. This way the necessary, but not particularly desirable structures, could be distanced from the residences. Today, while many of the residences these carriage houses serviced have been demolished, the cluster of four outbuildings has been preserved and is known as the Herrick-Mews district.
By 1898 thirty families resided in the community. Additional structures included St. Alban's Episcopal Church and the Euclid Heights Office. The church had been moved on rollers from the bottom of Murray Hill to the site Calhoun donated. After the move, its name was changed from St. Andrews-in-the-East to St. Alban's. At this time, not all streets in the subdivision were completed. Kenilworth, most of Overlook, and parts of Derbyshire, Berkshire, and Edgehill roads, as well as a small portion of Euclid Boulevard had been "improved." Scheduled work for the upcoming year included the near-completion of Berkshire, Edgehill, Kent, and Overlook, as well as portions of Hampshire, Norfolk, and Overlook Lane.
Only a few new residents came to the area in 1899 and 1900, but again in 1901, construction increased. At least fifteen more families made their homes in Euclid Heights, ranging from a cashier and a gardener to several attorneys. It was this same year that the hamlet of Cleveland Heights was formed. This included Euclid Heights as well as some adjacent subdivisions and outlying areas.
In 1906 Dr. Charles Briggs constructed what would be one of the largest estates in Euclid Heights. Designed by renowned Cleveland architect Charles Schweinfurth, its thirty rooms included a ballroom wing for local children's dance classes. The grounds around the castellate Tudor mansion included a swimming pool, stable, gardener's cottage, a playhouse, and formal plantings. The residence was demolished in 1965 for four condominiums, and only the ballroom, stable, playhouse, and stone perimeter wall remain today.
In 1909 Howard Eells moved his family to the Heights, locating his home at the top of Cedar Hill, in an English Tudor stone house designed by Frank Meade. Eells was involved in banking, oil, and manufacturing. This residence was demolished in 1951 to make way for an apartment building.
Euclid Heights represented one of many suburban developments available in the greater Cleveland area. The period of 1900 until 1910 brought dramatic growth to the once rural areas of Cuyahoga County. In this decade, Cuyahoga County saw an increase of over fifty percent in its agrarian areas. People were slowly moving from the congested inner cities and creating rural enclaves which, in only twenty years, would become dense suburban areas, no longer eligible for the title "rural."
As the population of the subdivision grew, more improvements were financed. In September, 1911, the Euclid Heights Committee reported that the pavement on Edgehill between Cornell Hill and Kenilworth was near completion, and noted the unchanged poor condition of Cedar Glen. In 1912 it appeared that Euclid Heights was caught between an urban and rural character. The Report of the Euclid Heights Committee makes note of the problem of automobile companies using Cornell Hill to test their vehicles. Testers would speed up the hill and then across the subdivision. At the same time the residents had to deal with horses from the "Italian settlement" grazing on their properties.
Euclid Heights Governmental Legislation
On April 9, 1901, the first meeting of the Trustees of the Hamlet of Cleveland Heights was held. One month later, the first ordinance was passed, prohibiting ale, beer, and porter houses, as well as other places which sold intoxicating liquors. On June 8, 1901, the Trustees of the Hamlet began their quest for modern conveniences and passed an ordinance to grant the Cuyahoga Telephone Company permission to erect, construct, and operate telephone lines within the hamlet of Euclid Heights. It was about this same time that door-to-door mail delivery was established in Euclid Heights.
The autumn of 1901 brought the adoption of appropriations for the purpose of opening Euclid Heights Boulevard as a public roadway. April 6, 1903, marked the first election in the Village of Cleveland Heights, and not entirely surprising, the first trustees included John G.W. Cowles, John Spence, and William T. Quilliams, all residents of the Heights prior to the development of Euclid Heights.
Early in 1903 the forty-six families of Euclid Heights united to form the Euclid Heights Improvement Association. Led by Charles E. Adams, Thomas Hogsett, and S.M. Bond, the group sought to secure modern conveniences. Each family was assessed $5 per month to help pay for a day and night watchman, street cleaning, street lighting, and basic costs.
While the residents had established a local government, the population was still not large enough to merit the construction of a City Hall. It was not until 1909 that the first permanent governmental structure was constructed. Appropriately, it was constructed near the community's first village center known as Fairmount.
By 1907, Euclid Heights was a haven for socialites in the Cleveland area. Sixty-nine families who resided in the subdivision were listed in The Blue Bookover 75 percent of the entire number of families in the subdivision.
Recreation in Euclid Heights
In keeping with the needs of the bourgeois that moved to this new subdivision, a golf course was planned as the chief recreation facility. As early as 1897, links were available to Euclid Heights residents. This early course was abandoned when the Euclid Golf Club was later constructed. Cleveland's society newspaper, Cleveland Town Topics, reported on December 1, 1900, that the construction of the Euclid Heights club house was underway, and that a golf pro from Detroit, W.H. "Bertie" Way was busy perfecting the links.
Euclid Golf was only the second course in greater Cleveland, the sport only recently having gained recognition in the United States. Many were unfamiliar with the game. In fact, a lengthy article in The Plain Dealer of 1897 explained the concept and history of the game.
The brainchild of Calhoun and architect Frank Meade, the Euclid Golf links opened on July 4, 1901, while the $50,000 club house opened in August of that same year. The structure was near the center of the golf links with a view of the lower nine holes, the fairway, and the tennis courts, as well as the Cleveland skyline and Lake Erie.
The Euclid Club had a Tudor style club house with verandas and was the center of social and recreational activity in the Heights. Frank Meade designed the structure. The interior was designed by Mr. E.W. Currie and included Roman style frescoes, richly colored rugs, toilet rooms, a dining room, a banquet and ball room, and sleeping apartments.
Prior to the opening of the clubhouse, a newspaper article boasts of an experienced staff led by Mr. Nelson of New York City. It notes that he brought help with him, most of whom were Japanese. An early member of the club remembered that the "club started out with a force of Japanese servants and waiters but for some unremembered reason they ran out on us about the end of the first month,' and other men and boys took their places." A club with membership of such high social standing undoubtedly required a large staff.
Early membership was made up of approximately one hundred men. The club had a membership limit of four hundred, but there was a long waiting list as the club gained notoriety. Euclid Golf owned the property north of Cedar Road on which three of the golf holes and Tudor style club house were located. Property southwest of the club combined with these three holes to comprise the "upper nine."
Directly across from the club house to the east and south the club leased an additional nine holes from John D. Rockefeller, an honorary club member. Rockefeller's only stipulation for the lease was that the club members not golf on his property on Sundays. Consequently, on the Sabbath, golfing members were forced to play the lower nine holes twice.
The club had also been recognized outside the Cleveland area. In July, 1907, the National Amateur Championship golf meeting was held at the Euclid Club and Jerry Travers won the tournament, thus becoming the American amateur champion. When Euclid Heights resident Myron T. Herrick was running against Mayor Tom L. Johnson for the position of Governor, the two men challenged one another to a round of golf prior to the election. Herrick was the winner in both instances.
About 1910, many members left the Euclid Club to join the new Mayfield Club and Shaker Club. A newspaper report stated that the Euclid Club would to go out of business on October 1, 1910. "Thereafter the famous course will be idle unless some arrangement is made for its continued use pending the opening of the Mayfield course next summer." However, on October 1, 1910, after a stockholders' meeting, it was announced that the club would remain open.
In 1913, the course remained open. It appears that perhaps the club was closed for the 1914 season, most probably due to Calhoun's bankruptcy and auction proceedings in the allotment. However, on July 3, 1915, golf enthusiasts were "taking advantage of the reopening of the historic Euclid Club Course." This season may have been the last for Euclid Golf. Soon after, the beautiful Club House was razed. The Alcazar Hotel was later built near the site. After the course had closed, B.R. Deming bought 141 acres, which included nine golf holes, from John D. Rockefeller. He then developed the Euclid Golf Development, a residential subdivision, which would offer yet more competition to Calhoun's subdivision.
Calhoun's Misfortunes
By 1912 there were about eighty-six residences, one church, and the Euclid Golf Club in Euclid Heights. The most densely developed areas were along Overlook and East Overlook, while secondary areas of construction were along Berkshire Road and Kenilworth. Although the population was increasing, it was doing so at a slow pace. It had been almost nine years since the first resident moved to Euclid Heights, yet only 10% of the lots were occupied. By 1914, 102 residences were constructed on the 841 sites in Euclid Heights, approximately 12% of the available area. Construction in nearby developments proceeded at a similar pace.
To lure homeowners, Calhoun had arranged for a street car to provide subdivision access, improved streets with paving, installed streetlights, paid a night watchman, constructed a golf course and club, and provided water, gas, sewerage, telephone, and electricity. However as he created this subdivision, other developers saw the potential of this land atop the bluff, which was not readily accessible due to Calhoun's contract with the streetcar line. Other developers also knew he had taken the first steps to obtain city utilities by constructing main lines to tie into Cleveland's services.
Similar subdivisions began to spring up adjacent to Euclid Heights: Mayfield Heights to the east, Cedar Heights, Ambler Heights, the Wade Allotment, and Bellfield and Grandview Avenues to the south. These subdivisions were, for the most part, developed contemporaneously with Euclid Heights, although it is difficult to say whether the Heights' Grandview and Bellfield Avenues, and Mayfield Heights predated Calhoun's subdivision. None of the other developers invested as much in improvements as Calhoun. Often they could sell their lots for less because they had been spared the initial development expenses that Calhoun had incurred. In fact, Calhoun forbade M.M. Brown, developer of Mayfield Heights, from constructing houses in his subdivision, angry over the competition. Brown supposedly emptied his sewers into the brook and constructed substandard water and sewer lines; yet he outsold Calhoun's properties because he paid little in improvement costs. Additionally, Brown used his adjacency to Euclid Heights to promote his subdivision:
"To all clear sighted people it is evident that Euclid Heights will in the near future be the finest residence portion of Cleveland, containing as it now does, the finest pavements and best improvements in the city. Mayfield Heights is separated from this unusual tract of land only by a street and its improvements will undoubtedly be extended to our land."
The developer boasted of all improvements being made at Euclid Heights, implying that purchasers could derive these benefits by purchasing the less expensive land in his allotment.
In about 1905, Patrick Calhoun moved his family to San Francisco, California, and once again went about consolidating street railways. At that time, city officials were divided about the type of transit system they would prefer: trolley or underground. Calhoun advocated the trolley system which the city officials decided upon just prior to the 1906 earthquake. Soon after the quake, Calhoun became president of the United Railroads of San Francisco. A transit union strike in 1907 brought Calhoun into a desperate fight with the unions, a conflict which would again divide the city. In that same year he was charged with bribing city officials to ensure their choice of trolley car transportation over underground lines. A year later, in 1908, Calhoun was indicted on further charges. Very little evidence existed against Calhoun, but the case was tied up in court and later postponements until August 15, 1911, when it was dismissed due to an alleged conspiracy, as well as the discovery that the prosecution planted a juror. Much of Calhoun's fortune, as well that of the United Railroads, had been drained during the trial.
Because Calhoun had no business associates, during the trial he was unable to deal with his many investments: oil fields in Texas, utilities in Pittsburgh and Philadelphia, and various interests in New York, as well as his suburban development of Euclid Heights. In the end, Calhoun was found innocent, but his inability to deal with his investments during this time resulted in the loss of his fortune.
Calhoun and the United Railroads Board of Directors approved the withdrawal of money from their treasury in 1912. By July of the following year, Calhoun had withdrawn $1,096,000 and invested it in the Saloon Irrigated Farms Company, hoping to receive a large return. Unfortunately, the investment failed and Calhoun was ousted as president of United Railroads, accused of using the funds for personal use. He subsequently denied the charges to a New York Times reporter from his home in Euclid Heights.
When Calhoun's fortune began to wane during his trial, he lost much of his property to foreclosure, including Euclid Heights. Calhoun declared bankruptcy in 1916 but still owned several properties: a coal mine in Beattyville, Kentucky; fifty thousand acres in Calhoun Falls, South Carolina; a seaport in Port Royal, South Carolina; choice residential property at Hilton Head and Beaufort, South Carolina; and his wife's parents' home on Meeting Street in Charleston. After his bankruptcy, various Cleveland firms offered the entrepreneur positions; however, he declined, certain that he would regain his fortune.
After losing his subdivision in Cleveland, Calhoun moved to a boarding house in Beattyville, South Carolina. He later moved to Louisville, Kentucky, and then, in 1918, to Calhoun Falls, South Carolina. He eventually lost this land to creditors, and finally relocated to Pasadena, California, where he is said to have negotiated a lease on an oil field in the lower San Joaquin valley. There, at the age of 87, he died after being hit by a speeding car.
It has been said that Calhoun was ahead of his time. His development of Euclid Heights opened the gateway for similar subdivisions in the Heights. Small developers profited from their adjacency, while others would learn from his mistakes. The Van Sweringen brothers had undoubtedly followed the progress of Euclid Heights and used their knowledge to develop Shaker Heights, a community approximately one mile south of Euclid Heights. This community would become a nationally-known model suburb of the 1920s and 1930s.
The bankruptcy of Patrick Calhoun dramatically changed the vision of what Euclid Heights was to be. Once foreseen as a suburban rebirth of the glory of Euclid Avenue, the subdivision completely changed direction. The construction of grandiose homes for Cleveland's elite was supplanted by a boom of developer-built homes, most targeted at the growing middle class of Clevelanders. This development would take advantage of the convenience of regular streetcar service by constructing apartment buildings for those who could not afford to purchase a suburban home.
This shift of direction resulted in a new face for Euclid Heights, one that today creates the primary character of the subdivision. The earlier homes, several of which still exist, act as accents in this largely twentieth century streetcar suburb.
Kara Hamley O'Donnell is Historic Preservation Planner for the city of Cleveland Heights. This article was excerpted from her Master's Thesis, "Cleveland's Park Allotment: Euclid Heights, Cleveland Heights, Ohio, and its Designer, Earnest W. Bowditch," submitted to the faculty of The Graduate School of Cornell University, January, 1996.