Cleveland Heights and the National Preservation Movement
By Ken Goldberg (2007)
What is Cleveland's—and Cleveland Heights'—place within the Historic Preservation Movement in the US? Architectural preservation and conservation efforts took off in Greater Cleveland later than in many cities and, once established, tended to concentrate mostly on structures built between 1890 and 1930, when Cleveland flourished as one of America's fastest growing, progressive and glamorous cities. Cleveland's shops featuring architectural salvage, first appearing in the Flats and on Lorain Avenue in Cleveland around 1980, are largely from these same decades.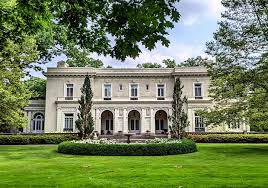 Tremaine-Gallagher House
National Register of Historic Places
The American version of the Movement began in the 19th century in communities or regions considered to have national historical significance—mainly along the East Coast. Landmarks were the focus—structures deemed worth saving (typically by societies formed for just that purpose) by virtue of their association with prominent persons or events. This phase spread to districts and individual buildings thought to have particular architectural significance. Eventually the Movement spread across the country and, by the late 1970s, when wholesale urban renewal had fizzled out, more ordinary buildings and districts were determined to be worth saving if they were integral to a community's fabric. Vital to our local efforts, somewhat newer structures—those from the early 20th century—took on new importance.
Expansion of the Movement's coverage, decade by decade, was reflected in books and periodicals which, in addition to dealing with 18th and 19th century buildings, began discussing later examples, including more common building types. Old-House Journal appeared in 1973 and by the mid-1980s expanded its historical discussion all the way to 1939. Publication of very detailed city architectural guidebooks, such as American Institute of Architects, Cleveland Chapter's, two editions of the Guide to Cleveland Architecture coincided with that of New York City's in 1968. Numerous communities followed, stimulating much public appreciation toward buildings of all periods.
The National Trust for Historic Preservation's America's Forgotten Architecture (1976) includes material on conservation of basic buildings and discusses early 20th century industrial structures. 1980 saw the publication of Carole Rifkind's Field Guide to American Architecture. In 1986 McAllisters' Field Guide to American Houses was published, covering styles from the earliest Colonial to the most contemporary. Alan Gowans' The Comfortable House: American Suburban Architecture 1890-1930 also was released around this time.
Anyone with a desire to restore a property in the Cleveland area can find worthy 19th century examples in Ohio City, Tremont, Chagrin Falls or Hudson. However, much of the most interesting preservation/conservation activity is taking place in the late—and extremely architecturally attractive—neighborhoods of Cleveland Heights, Shaker Heights, Lakewood and their bordering Cleveland districts. Greater Clevelanders, with so many of our excellent, earlier examples lost, are concentrating on highly developed and exuberant, early 20th century structures—arguably Greater Cleveland's greatest contribution to the nation's architecture and its preservation efforts. We need not apologize for focusing on this period, particularly since much of it has already disappeared over the past four decades. Cleveland Heights, regrettably, has already lost dozens of good early 20th century houses and commercial buildings.