Lost Cleveland Heights (through 1997…)
A look at the structures that – for good reasons and bad –  are no longer a part of our city's landscape.
by Ken Goldberg
All cities experience physical change. Most have also experienced urban renewal, with its typical demolition, vacated land, and slow rebuilding. Likewise, the sections of many central business districts have been replaced. Cleveland Heights – though a suburb with all its magnificent homes, thriving commercial districts, spectacular religious structures, and viable neighborhoods – has not been spared. It has, in fact, lost an astounding number of structures.
Sometimes, of course, demolition and replacement are necessary, as was the case with the removal of a badly decaying and unsightly auto dealership on Lee Rd. Other times, though, demolition becomes a dubious "cause celebre," as did demolition of Cleveland Heights' four elementary schools, junior high, and former high school (turned administration building) in the early 70s. All of these were solidly built, dignified buildings of brick and stone. A major controversy in the mid-1980s was the second City Hall building, which is also gone. The point is that, with the benefit of 20/20 hindsight, we can observe that sometimes good and often poor decisions were made to remove venerable structures in the city of Cleveland Heights. This article is an attempt to identify and memorialize them.
Farmers Long Gone
Not mentioned here will be all the 19th-century farmhouses that are gone, although there are a handful remaining. Some farmhouses will inevitably be mentioned. But instead we shall concentrate on what is lost from the community's suburban years. We shall also not list gas stations demolished for stations of new design, and the like.
Let us begin entering the city via one of its primary thoroughfares: Cedar Road. At Cedar Glen Parkway and Murray Hill Road, at the western edge of Cleveland Heights, there stood a small, four-level International Style house of ca. 1939 up the hill – demolished by CWRU for Staley House dormitory. To the north, at 2323 Murray Hill and also up the hill around where Howe House and the stairs up the hill now stand, was a fascinating residence of 1940s-Colonial style – re-fashioned from an 1880s house and barn by the architect, Bascom Little, Jr. It included a tall section and featured eleven levels in a completely wooded setting. Today there are few indications that houses ever stood where dormitories and commons now dominate the slope – only a few remnants, such as parts of a wall. This Cleveland Heights stretch of Murray Hill was not really associated with Little Italy and did not resemble it.
Also on the border, overlooking Cedar Glen, between Ambleside and the Cedar Glen Apartments, were a smaller apartment house and about five other homes. These were removed in the 1970s for new subsidized apartments and Judson Park's expansion. One Prairie Style-influenced stucco home, designed by Oviatt, was moved to a site on North Park Blvd.
Area of Mansions
We shall consider the Overlook and Carlton Road houses, whether in Cleveland Heights or Cleveland, as one district. The Herrick mansion, where the Christian Science Overlook House stands, was of red brick with a gambrel roof. Nearby, the Gordon house was replaced or extensively remodeled when still  relatively new by the French villa at 2155 Overlook. The Eels mansion at 2321 was a stone Meade and Hamilton which would have fit well into a Fairmount Boulevard setting.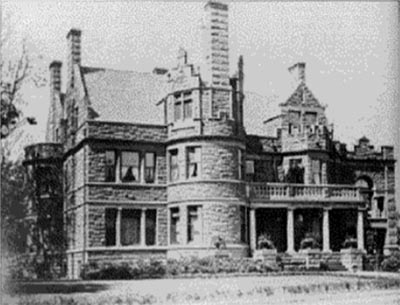 Howell Hinds house, Overlook Road

The Rice mansion was a wide, pillared structure where Waldorf Towers (controversial even when built in the 1960s) now stands. Large, squarish mansions flanked the entrance to Carlton Road; these were amid a row of mansions that later became Ursuline College and Ursuline Academy. They were demolished after the college's move to Pepper Pike. All along Overlook are stone walls and steps and slate walks indicating where mansions once stood. In all, eleven turn-of-the-century mansions were destroyed, with five of these in Cleveland Heights–including one on the border replaced or extensively remodeled.
Carlton Road, still entirely intact, once boasted 16 large, beautiful houses – seven of which all or partially in Cleveland Heights. Primarily of the 1910s, the houses resembled the large homes across Cedar Glen in Ambler Heights, though were not quite as dramatic as some on Harcourt or Chestnut Hills Drives. The semi-private Carlton enclave, overlooking Cleveland, was indeed a cherished address and relatively close to downtown, as is true of the Edgewater/Lake Avenue district on Cleveland's West Side.
But in the late 1950s Case Institute of Technology began buying these properties for dormitory and fraternity sites, until only four houses remained. One of these was later demolished and the other, a Colonial Revival house and the first on the right side, was demolished in the 1990s. The stone wall at Overlook by the tennis courts is 1890s-style but relatively new.
Lost to Parking
Further up Cedar Road was once a small apartment house just past Grandview. Built about 1912, it was one of Cleveland Heights' earlier multiple dwellings and was still quite new when the Tudor Revival Heights-Grandview Building replaced it around 1931.
Several houses and small apartment houses on Grandview Avenue have been sacrificed for parking. East of Delaware on the south side were a small business block and two houses that were replaced (along with houses on Bellfield) with new structures or parking lots. A wonderful, ornate, Spanish-style parking garage behind the impressive Germanic-style Heights Center Building was replaced in the 1980s by a contemporary concrete garage.
At the northeast corner of Cedar and Norfolk was a brick house, demolished in the mid-1970s for a city parking lot despite vigorous neighborhood opposition. From Fairmount east – behind the notable Deming house that "presides" over the intersection of Cedar and Fairmount – were seven picturesque and/or very large homes. The first was the outspread Prairie School stucco Miller house, called "Wildwood." Its garage foundation, a hint of its circular driveway, and large rocks that were used in its landscaping can still be seen today. The house burned in the 1960s. The large Georgian Revival Taylor home stood on the bluff where Whitecliff Manor (later Cedarwood Plaza) was constructed around 1961. Both mini-estates were dramatically situated and landscaped on hilly sites above a ravine. Another mansion stood for many years where the firehouse was built in 1983 (again after stormy neighborhood opposition). Finally, a large stucco home stood at 12624 Cedar Road. It was empty for many years and was finally demolished in the 1980s for the attractive Cedar Circles.
One of the largest homes in the neighborhood was the Calhoun/Crile house, which faced Derbyshire near where Cedar Hill Baptist now stands. The mansion was built by Patrick Calhoun, the tract developer, as his second house there. It was three stories and of "palazzo" style, in the same vein as the Isabella Stewart Gardner Museum mansion in Boston. Once vacated, the Calhoun/Crile site was considered by many groups, including Telshe Yeshiva, now in Wickliffe. The "carriage house" at 12621 Cedar remains as a two-family home.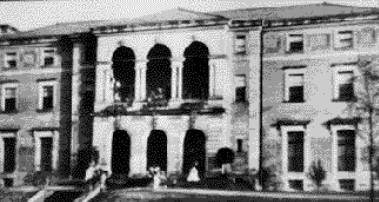 Golf Clubhouse
Slightly older was the huge Euclid Golf Club's Tudor clubhouse extravaganza. This opened in 1900 and was demolished soon after the Club sold out in the 1910s to make way for further development. Continuing up Cedar Road, two doubles and a single home to the left and probably three single homes to the right of Grace Lutheran Church were demolished in the 1950s through 1970s for an addition and expanded parking. One double was transported to the empty lot northwest of Cedar and Coventry, and remodeled into a corner two-family. Several houses between Oakdale and Edgewood were demolished for parking. There was another commercial building west of the Tracy Building, in front of the auto body shop.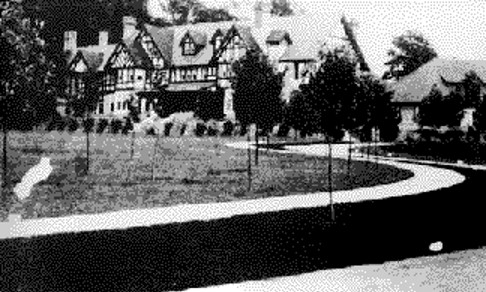 The Euclid Golf Club House, late 1900s
At least one more commercial building was on Cedar east of Lee, behind the Cedar-Lee Theater. Kildare Road has lost two houses – one for a gas station, another for the Wendy's, which was built after the settling of a zoning controversy.
East Derbyshire Road originally extended all the way east to Goodnor. New houses of the 1910s or 1920s were demolished or moved and the entire block eliminated for the Heights High campus. Washington Boulevard also lost at least one house on the south side.
To the North
Moving north to Mayfield Road, several doubles and singles, in the stretch from Kenilworth to Coventry, were demolished for mini-parking lots. The gas station on the northwest corner of Mayfield and Coventry stands on the site of a small apartment house, and there was commercial property to the west.
A commercial/apartment building to the left of the site of the demolished City Hall was torn down for City Hall parking. Also for City Hall expansion and parking went about 17 singles and three doubles on Ridgefield Road, which used to go to Mayfield. Five houses and a small apartment house on Superior were also leveled. Jaguar Cleveland tore down the large house maintained by the Heights Jewish Center on Superior after acquiring the property in the late 1970s. The Cleveland Heights Police now use the property. The Jaguar Cleveland site will soon be replaced by a Walgreens. Several houses were razed in the 1960s to make space for the May-Lee Medical Center. Several houses and an apartment building were demolished for Dowd Oldsmobile expansion.
The Temple on the Heights razed several houses over the years for its western additions. The block west of the former synagogue (now "The Civic"), where Sawyer College of Business and parking lots are situated, was once a group of houses and businesses. Park Synagogue took over the former Park School buildings in the 1940s and retained them, until two were destroyed by fire.
The Former Severance Center and Beyond
East of South Taylor was "Longwood," the magnificent Severance estate. This was the centerpiece of a compound that housed members of the Severance, Millikin, and Prentiss families. The Severance mansion itself was of Akron's "Stan Hywet" caliber – one of America's great Tudor Revival mansions. Designed by J. Milton Dyer and Charles Schweinfurth, it housed a great art collection – much of which is now in the Cleveland Museum of Art. Although there was a great deal of opposition, the home's second owner, Severance Millikin, got his wish in the early 1960s when the land was rezoned, and Severance Center – a glamorous, trendsetting mall – was developed along with the Austin Co. headquarters on the property. Original plans also called for many more buildings. Only an exterior fountain and stables were left to stand. Another house stood where the Austin headquarters is.
Across Mayfield, a related house stood, roughly where the firehouse is; and further down was "Glenallen," the Prentiss homestead – particularly known for its gardens (traces of which remain). Vacant many years, the mini-estate's land was eventually divided for the Jewish Community Center, Lutheran East, Council Gardens, St. Louis, and many residential lots along two streets. Actually, more streets were planned for tract (called Prentiss Park) but the institutions bought the segment instead. The stone fence along Mayfield dates from the "Glenallen" period.
Further down Mayfield, a large stucco house at Cleveland Heights Boulevard was razed about 1979 to make room for a condominium project. Another was planned for the site of a large frame house at Edendale Street. After a legal battle in 1984, the empty house was demolished, and the project was completed in two stages. In this decade, an institutional dwelling has replaced a house at the north end of the street. A house once stood at the corner of Wilmar, near the present small office building, and a few more structures are gone from the Mayfield-Warrensville area. There was a double about where the Oakwood House Apartments stand.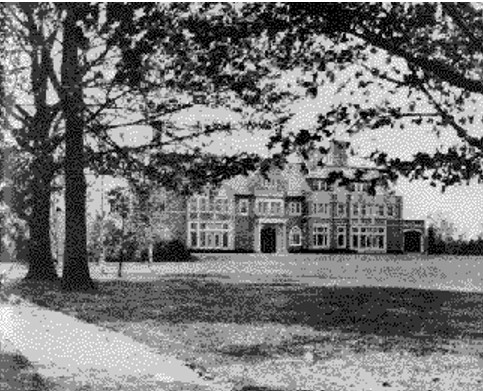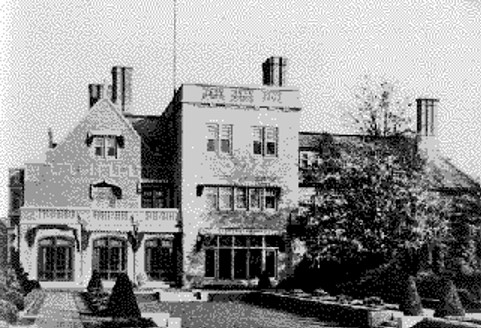 A view of Longwood's garden side, which illustrates its English manor house quality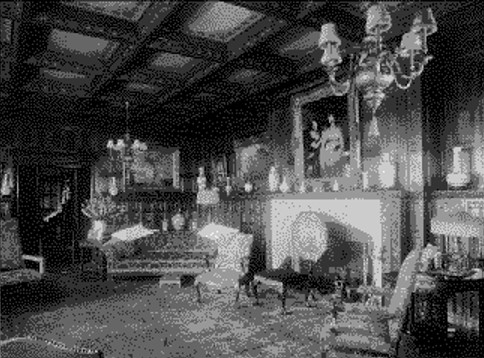 Coventry Village
The colorful Coventry Village neighborhood has surely had its share of destruction. Coventry Yard is, of course, a vastly different building than before the fire and previous recycling. One of the best-known demolitions in the Heights was that of the Charles Schweinfurth- and Charles Schneider-designed, Jacobean Briggs mansion of 1906 (enlarged in 1920) bounded by East Overlook, Coventry, Mornington Lane, and Edgehill. Despite strong opposition, it was sacrificed in the late 1960s for a very beautiful condominium complex, leaving the elegant masonry/iron fence, and fanciful Tudor-style garage/ballroom.
Five houses and two small apartment houses were demolished for the Musicians Towers project between Hampshire and Lancashire Roads about 1970. Two more neighboring houses went in the mid-1980s for additional neighborhood parking. Previously, a single and a double had been demolished to allow space for Coventry Commons.
The row of three houses on Euclid Heights Boulevard, past the Coventry School and set far back in a wooded setting, once had  several more housesin their ranks. A mini-estate at 2860, with large house and auxiliary buildings, went in 1958 for school property expansion, while another house, a '40s bungalow and number 2882, was razed in 1973 for the present school.
The "Save Rock Court" campaign was a lively issue in the mid-1970s, when most of the residences on this "country road" were slated to be demolished for commercial parking expansion. Eight houses – including three small, almost identical houses – were eventually razed. The row of three houses on Euclid Heights Boulevard, past the Coventry School and set far back in a wooded setting, once had several more houses in their ranks. A mini-estate at 2860, with large house and auxiliary buildings, was in its last years a retirement home but went in 1958 for school property expansion, while a more modest house – a '40s bungalow and number 2882 – was razed in 1973 for the present school. Yet another Postwar house on Washington Boulevard was sacrificed for the new school, situated to the east of the former school site.
Euclid Heights
Euclid Heights Boulevard has lost quite a few other structures. Beginning at Cedar the boulevard (which begins with an old stone wall at Overlook) is now missing a double at 2360-2 (between two existing doubles). Three houses between Lennox Road and the Excel Apartments were removed to make room for a parking lot. Several small structures were also removed in the 1990s.
The north side of the boulevard was always more open, but there was a small frame house about where the former Margaret Wagner House's auxiliary building now stands. Historical documentation of this enclave is problematic because the structures on what is presently called "Herrick Mews" had addresses on three different streets in old directories.
Gone are a large brick home at Derbyshire – center entranced with side porch, side gambrel roof, and early attached garage. Also taken were brick homes at 2475 and 2493 Euclid Heights, similar to other ca. 1915 homes on the boulevard; these were razed for a project that did not materialize (though there are now condominiums on part of the site). Also lost were a sizable V-shaped apartment house going around the curve onto Lancashire (demolished about 1972) and a house up the hill at 2742 (due to a fire; the driveway remains). Three more Euclid Heights houses were demolished for the old Boulevard and Roosevelt Schools' campus; these schools have since themselves been demolished.
Kenilworth once had large frame houses at 2505 and 2539, on either side of Overlook Road, where there are parking lots. At least one dwelling was a rooming house in its later years until destroyed by fire. Number 2493 Overlook was a residence turned college student co-op before its demise. St. Alban's Episcopal Church (now demolished following a fire) was actually moved to Euclid Heights and Edgehill from Little Italy about 1897, and its architectural style was Anglicized.
Lee Road between Cedar and Mayfield lost a house for Johnny's Service, Inc. Also gone from the area are a long, one-floor commercial structure at the southeast corner of Euclid Heights and Lee Road (now the site of a gas station), three house/businesses on land now occupied by the Cain Park Apartments, and another house adjacent to Cain Park. There was also a large shingle house southeast of the Superior Road corner which had become a Jewish Community Center branch. Two houses went for the former Chrysler dealer (site of the current Rite-Aid Pharmacy) at Lee and Berkshire. A restaurant stood at 2092 (now a service station).
An impressive early Colonial Revival house – one of Euclid Heights' residences – once stood at 2708 Berkshire Road. There are currently two newer homes on that site, plus a residence to the south assumably remodeled from the demolished house's carriage house or garage.
Pedestrian Link
South of Cedar about 23 houses on Cedarbrook and Tullamore Roads were removed in the 1960s for a large parking lot and paved pedestrian link to the street! Near the southwest corner of Lee and Cedar was the tall hulk of City Ice and Fuel Company, which was actually a complex. The brick McDonald's of 1979 (now Lemongrass) replaced the legendary Mawby's – a restaurant with an almost identical facade. Cedarbrook was closed off to Lee altogether. The site of one of the recent city-owned parking lots at 2200 Lee Road was that of an auto dealer and later a body shop. A small commercial structure stood at 2219-21 Lee. An early fast food take-out outlet also once stood on the west side of Lee, near Meadowbrook.
In the 1960s and early 1970s, the Heights Main Library bought and demolished (for expansion and added parking space) a single and a double home on Lee Road south of what was then the squarish library at the corner of Dellwood, the existing building, two homes on Dellwood, and two on Ormond. A third house on Ormond was saved, due to Ormond residents' major objection to the Library's plans..Two singles on Corydon and a single and double on Coleridge were demolished for YMCA construction.
South Taylor has lost some houses but also a few commercial buildings – for example, the small restaurant at 2104 and the buildings at 1901-39, demolished for Taylor Commons Plaza. Several houses were razed for Hebrew Academy expansion, and others for parking lots and new commercial buildings. Heights Furniture and Toy (in what became  the home of Vanderbrook Florist).  demolished a house on South Taylor for store expansion and later, about 1970, two homes on Blanche Avenue for parking lot expansion. The front lawns of these homes remain as "landscaping." A house on South Taylor was demolished for Taylor Road Synagogue expansion.
Several North Park Boulevard mansions are also lost to the ages. A house by Denton Drive was destroyed, and five smaller homes, decades later, built in its place on Denton and North Park.
The center-entrance, shingle Bourne home of 1903 was constructed at North Park and Harcourt. After a fire, the house's foundation was used as a swimming pool for another house, amid a formal garden, but about 1980 two houses were built on the lot, with addresses on Harcourt. One or both incorporate architectural features from the original house.
Around and Along Fairmount Boulevard
The sprawling, half-timbered and brick Allyn mansion, designed by Harlan Shimmin, stood to the east of the intersection of North Park and North Woodland. A modern home was built in the '60s which incorporated segments of the original structure, and another house was constructed on the property in 1986.
The home of civic leader Harold T. Clark stood at 2919 Fairmount Boulevard on the "historic mile," between Marlboro and Arlington. Imitating his father-in-law's will which requested his Euclid Avenue mansion be razed upon his death, Clark requested his Fairmount house be destroyed. The large, white New England Colonial Revival manse with glistening, white picket fence was popular and neighborhood opposition was fierce. Nevertheless, the house was razed with  only a lawn was there for many years. The present Fairfax School building cost large brick homes on Wellington and Fairfax Roads – one on each – and two houses on Lee. Fairfax Road was also closed off from Lee. Still another impressive home, once gracing a highly visible site, was the 18-room, 1910s, brick Allen mansion, for only about twenty years; it stood at what is affectionately referred to as the "Fairfax triangle" – at Fairfax and Lamberton Roads. Its loss may well be due to fire but, in any case, five homes from the '40s and '50s now occupy this sizable piece of property.
Other Losses Around the Heights
To make room for a Union 76 station, a house was removed at Lee and Essex Roads. Compton Road lost a house to the parking lot of Sts. Constantine and Helen Greek Orthodox Church. Bradford and East Monmouth Roads each lost two houses, and three houses on Lee went for Church of the Savior parking. The former Church of the Redeemer on South Taylor demolished its former sanctuary, about 1981.
A whole row of houses, including a double, around Noble and Glenwood were demolished for the Pick-N-Pay (now Medic). Five houses stood on the site of Warrensville Center Synagogue (Kehillat Yaakov) and neighboring apartment buildings.
Several houses were in the way of Noble School expansion and were consequently moved to either end of Montevista Road. They appear older than the street – a "giveaway." This is also true of an 1880-ish house moved to Crest Road. In 1997, one of the Montevista houses was demolished, with another home, for library parking.
A house on Maple road was demolished due to a fire in 1983. A house at 3171 Washington Blvd., just west of Lee Rd., was demolished for restaurant parking. Three University Heights houses were removed and Washington Boulevard cut off so that the Taylor School yard could be expanded. Yorkshire Rd. lost two houses near Lee for commercial parking. Several houses were lost for Monticello Middle School and its athletic field, and a Yellowstone Road house was raised for a sewer right-of-way.
A house was torn down for Superior School Park and two houses demolished to add land to Forest Hill Park. A house on Redwood Road and a commercial/apartment building on Lee Road were torn down for the True Sisters Day Nursery.
Noble Rd. has lost a few houses and small commercial structures in favor of new apartments, shops, offices, and parking. The two strips that had disastrous fires in the early 1980s were in East Cleveland, but doubles and singles on three border streets were eliminated for construction of the Noble Nela lot. Demolition has continued in the 1990s to create new site options.
Houses also have been demolished for expansion of the First Church of Christ Scientist (on Lee), the Carmelite Convent, Fairmount Presbyterian Church, Congregation Beth Am, Grace Mount Gospel Church, Church of the Redeemer, and Sinai Synagogue. In the past ten years, demolition has continued, with fine houses removed for the religious complex at South Taylor and Euclid Heights Blvd. Commercial buildings on Coventry Road have been replaced by the new garage/shopping complex and the new Coventry Courtyard (following another fire). New pharmacy outlets – two on Lee Rd and one on Mayfield Road – have replaced aging auto dealership structures.
What Next?
Is this dizzying rundown complete? Of course not! Existing buildings are threatened every year. The period of heaviest demolition in Cleveland Heights was 1960-72, when the suburb had reached its maximum density and businesses were thriving. At that point, Cleveland Heights reached a fully developed state, and the preservation movement had not yet made much headway.
Had the planned Clark, Central, and Lee freeways actually slashed the Heights (as backers favored in the 1960s), destruction would have been even more enormous, with hundreds more structures lost and dozens of cut-off streets. A Heights Rapid Transit Extension, also planned in the 1960s, would also have eliminated buildings.
Virtually every demolition represents some loss of human stability. In most cases they reflect important decisions made by those with power, rather than by those whom the result would most affect. At least one can say that, although buildings are still lost to what is often dubious "progress," there is now more thought – and occasionally a legal battle – behind each final decision. Cleveland Heights may have been "physically mature" 30 years ago, but as a community it only matured in the 1980s, as more knowledge was acquired about zoning impact and the value of neighborhood continuity. As many levels of urban woes have spread to the suburbs, so has positive activity, such as the preservation movement. Several years ago a group of neighbors on Ormond successfully argued at a Zoning Board against demolition of a third house on that street for a planned parking lot expansion. Hopefully, this victory signifies an enlightened trend for the future.