Cleveland Heights history is alive and well in Lake View Cemetery. Well known for its hilly, manicured landscape, Lake View is one of the country's finest examples of a cemetery landscaped to the Victorian Romantic ideal. Graced by monuments of famous and humble Clevelanders, it encompasses a significant variety of carved monuments and burial chapels, Garfield Monument and (classical revival) Wade Chapel, with original Tiffany windows. The Cemetery's landscape designer, Adolph Strauch, was nationally known for designing cemeteries in the Romantic ideal, with lush plantings, open lawns, and gracefully curved pathways.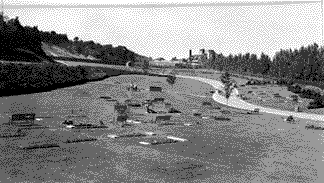 Lake View Cemetery vista in 1917.  The Rockefeller-endowed Alta House is visible in background.
Lake View began with the formation of The Lake View Cemetery Association in July 1869. Industrialist Jeptha Wade (founder of Western Union Telegraph and donor of the land upon which the Cleveland Museum of Art now sits), was the Association's first president. The Cemetery's original 200 acres were purchased for $73,000. It now encompasses 280 acres in Cleveland Heights, East Cleveland, and Cleveland.
Clevelanders quickly came to appreciate the natural setting of Lake View, which became "the" place to visit on Sunday outings.
When George H. Keller's competition-winning Garfield monument opened on Memorial Day of 1890, it was so popular that, by the next year, separate admission tickets had to be issued to lot holders and the public.
As Lake View matured, its architectural and historic presence complemented its natural setting, and many esteemed Clevelanders (including Leonard Case Sr., and Jr.) were reinterred. A number of people that either lived in Cleveland Heights or affected its development are buried in Lake View Cemetery. They include John D. Rockefeller (a former Cemetery trustee), Oris and Mantis Van Sweringen (who developed much of Fairmount Boulevard's historic mile between Coventry and Lee Roads), Dr. George Crile (founder of the Cleveland Clinic), and Myron T. Herrick (former Governor and ambassador to France).
Not all of the "residents" of Lake View were prominent Cleveland/Cleveland Heights citizens: near the Euclid Avenue entrance is a monument to, and mass grave for, the 169 pupils who perished in the tragic Collinwood School Fire in 1908.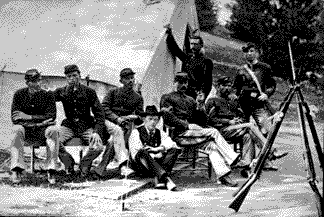 Prior to James Garfield's burial, federal troops were assigned to guard his body (1881).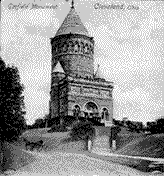 Garfield Monument, ca. 1900 (from Chuck Owen's postcard collection)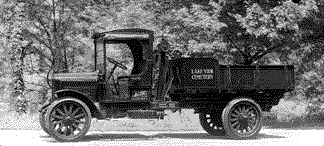 Lake View work truck, ca. 1930
This text was excerpted from "The Encyclopedia of Cleveland History," published by Indiana University Press, 1987, and the "Cleveland Heights Landmark Register," produced by the Department of Planning and Development, City of Cleveland Heights.